A fiber network connecting every home and business: South Portland Fiber
This network, made for you, will drive South Portland's vitality.
The South Portland Fiber Network
South Portland residents deserve a broadband network that delivers reliable, affordable, and powerful internet connections, from a choice of services providers.
On a fiber network, information travels at near the speed of light, translating to faster load-times and smoother streaming.
On an open access network, multiple service providers can operate on the shared infrastructure, so you can choose the services that work for your needs and budget.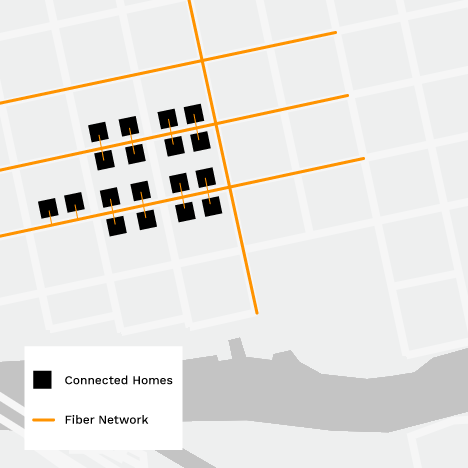 Your Path to Better Internet
This process means we can build the network as efficiently as possible, without any cost to the community, and with no burden on local government.
1. Help us map demand
Add your name so we can map demand, design the network, and draft the best construction plan
2. Select your services
Join the network and choose the services you want, according to your needs and budget
3. Network construction
Crews build the network and attach the fiber to your home
4. You're connected
Every resident and business owner who joins the network receives a fiber connection
The Impact
Fast, reliable internet
Workers will have fast, reliable connections to collaborate and share large files; students can carry out research and complete homework; and everyone in your home can seamlessly video chat, send and receive large files, stream movies, and more.
Smart home applications
Connect security cameras, temperate controls, and other "smart" devices to your at-home network.
TV
Stream live TV and all your favorite shows from Netflix, Hulu, and other services without painful buffering or any content restrictions.
Telehealth
Connect to your doctor from the comfort of your home, work with medical personnel to monitor your health remotely in real-time, and have the option to age in place.